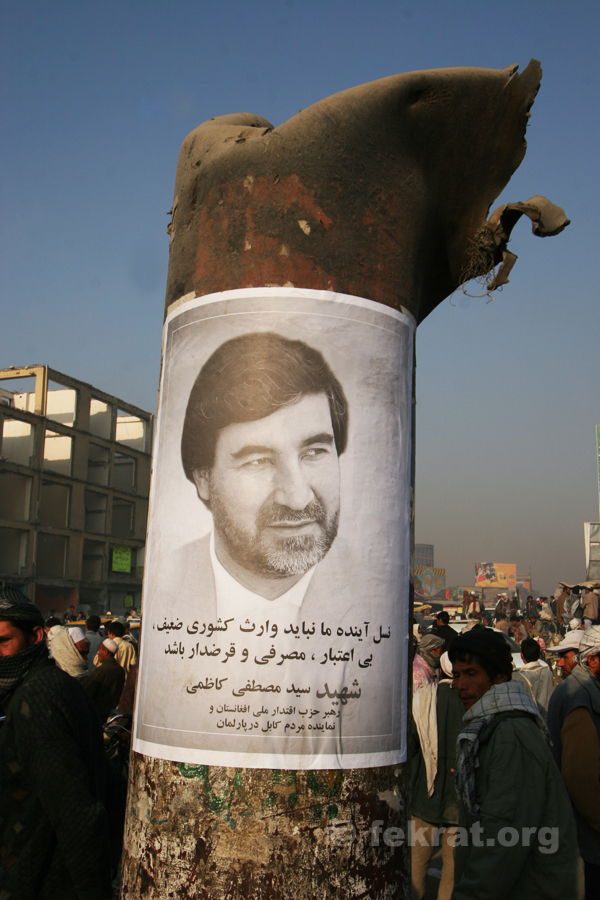 Mustafa Kazemi was an influential member of the parliament at the time of his assassination, was a former Trade Minister in President Karzai's cabinet. He was also the spokesperson for the opposition movement known as the United National Front. Kazemi and his parliamentary delegation visiting the sugar factory in northern Baghlan province was the target of a suicide attack on November 6, 2007.

Around 100 others were also killed in this blast and 80 others were injured. The majority of the people who were killed were school children who came to welcome Mustafa Kazemi and his team.

Most of the killings happened when bodyguards and security forces opened fire into the crowd out of fear. Some even believed that Mustafa Kazemi was killed as a result of rogue shootings by security forces. They found evidences like bullet holes in his skull and his body.

His picture on a torn electricity pole has a symbolic meaning about his death and the country that has been through three decades of wars. Afghanistan is a brutal country where everything and everyone is torn apart either physically, emotionally or otherwise. Those who have shown mercy either torn like this pole or forced out. Merciness, kindness and tolerance are replaced with cruelty, intolerance and meanness.